——-——-——-——-——-✂——-——-——-——-——-
Ben Thompson, MA (RCA) 
Ben Thompson grew up in York, North Yorkshire. Having achieved a BA Honors First Class in Illustration and Animation at Manchester Metropolitan University, he continued studies with a Masters at the Royal College of Art, London. Throughout his studies and professional career BT has concentrated on the creation of experimental film, video, sound and performance, however over the past few years this focus has become directed toward composing Collages or 'Faux-Documents' as he regards them.
BT's collages are composed by hand using imagery direct from publications unless otherwise stated.
——-——-——-——-——-✂——-——-——-——-——-
The Works Of Ben Thompson
From a continuously central focus on the mechanisms of the mind and their effects in/on the physical world, Ben's work finds its base in the experiencing, exploring and expressing of various aspects, or rather notions, of mental "being". Drawing upon an array of creative influences from the areas of fine art, film, video, literature and his own practical and academic progressions in the field of animation, Ben thus makes consistent use of the collage technique across his employed mediums of video, sound, image and text. His dyslexia also serves as a catalyst, whether willingly or unwillingly, for much of his creative output and he has found respite from the potential difficulties of external communication through the philosophies and writings of 20th Century literary figures such as William S. Burroughs and R.D. Laing. Interest in the latter and his book "Knots" in particular has emerged from his investigations into the effectiveness of successful communication with others owing to the earlier adoption of a personally devised and interpreted form of spelling, grammar and syntax, illustrated more prominently in his written work but making frequent appearance in practical manifestations and, as can be seen in the video installation "3tu4", their titles and subtitles.
David W. Jones, January 2012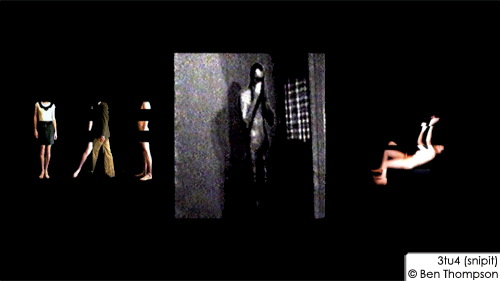 3tu4
(RT Mins): 7:16 
Individual titles left to right; Equivikal Equayshun, Self Erayzer/Eskaype Attempt, Endlss Fall
Ben Thompson (©Royal College of Art, 2011)

——-——-——-——-——-✂——-——-——-——-——-
It may seem like a huge leap has been made between what was once Ben Thompson's signature works of psychotic-expressionist, often oppressive sound and video composites to the creation of still and narrative collage imagery, however comparisons are plain to see between these differing externalizations. The unbalance of sanity in these newer collage workings still stride hurriedly toward the insane, there remains a definite sense that these are still highly personal and autobiographical works, also it can be certainly said that BT has always applied collage to his work; whether through video composites or the sequencing of sounds in his audio compositions and soundtracks. It seems the most notable difference in BT's newer creations is that he himself is no longer so directly the subject (Having been present in all works prior as performer, physically or vocally), in-place we are faced with printed should-be ephemeral characters snipped from magazines and Pritt in new roles; ranging from joyfully-eccentric to violently-insane, they pose for absurdest photographs. These collage works are described by Ben as 'Faux-Documents', tampered evidence of non-happenings, straying not too far from the believable to be unbelievable.
Alice Kathleen Pike, August 2012
Man In And Out Of Ruins
Sensual Arts Exhibition, 1923
(DATTOA collection)
Hand Collage
28.5X21cm
Ben Thompson, 2012
——-——-——-——-——-✂——-——-——-——-——-
Th Carrying Crow
(Detail From Table)
Hand Collage, Ink and Gloss On Wooden Table.
10.4 X 16 cm
——-——-——-——-——-✂——-——-——-——-——-